It's summertime and almost as exciting as all the amazing fruit that's starting to sprout is the thought of dipping that fruit into creamy, delicious fruit dips. Below are 9 of my favorites from around the web, plus one of my own creation.
Enjoy!
Marshmallow Fluff Dip from Women Living Well
The true classic. Just mix cream cheese and marshmallow fluff and serve. Some like to add vanilla, some don't. Do what you like. No judgement here.
Chocolate Fruit Dip from Cooking Classy
This chocolatey, creamy dip is a favorite of mine with bananas and it's also yummy spread on graham crackers!
Vanilla Pudding Fruit Dip from Lovely Little Kitchen
Vanilla pudding, milk, and cream cheese blend together to make a smooth, delicious dip that goes with just about any fruit you can think of.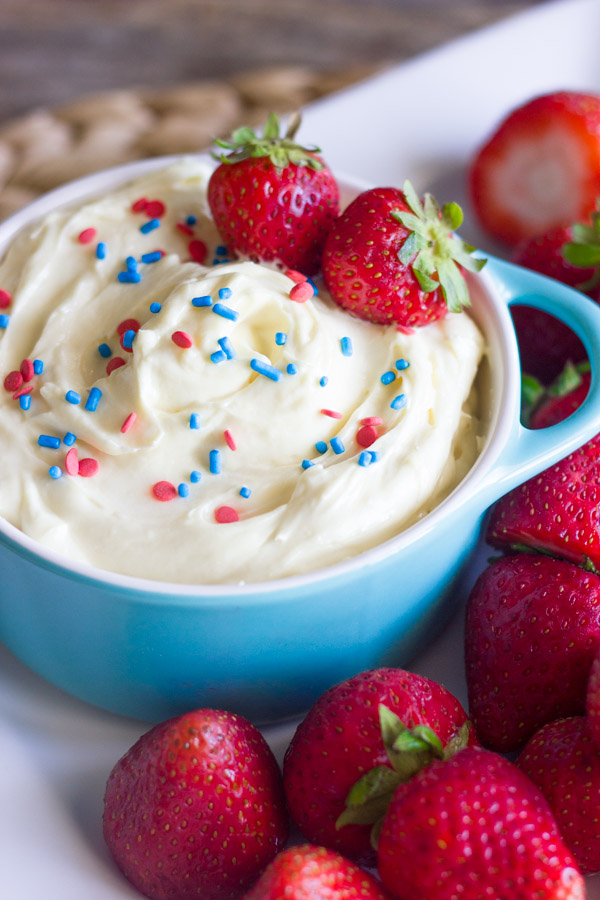 Orange Cream Fruit Dip from Iowa Girl Eats
A little orange juice concentrate gives this classic dip a kick.
Pina Colada Fruit Dip from Six Sisters Stuff
Light and refreshing, this dip is particularly good with tropical fruits.
Margarita Fruit Dip from Pink Cake Plate
This non-alcoholic fruit dip is refreshing and perfect with citrus fruits. Mix it up with different flavored margarita mixes!
Cannoli Dip from Cooking Classy
Great for dessert or with a fruit platter, this thick and creamy dip will add a little Italian flare to any get together.
Peanut Butter Fruit Dip from Chef in Training
A healthy option with skim milk and peanut butter is great for an after school snack.
Nutella Cream Cheese Dip from The Bold Abode
Oh. My. Yum. Creamy, luscious, nutty flavor. There's nothing more to say.
Coconut Cream Fruit Dip from Creating My Happiness (yep, that's me)
I discovered this by accident when I had to eat my lunch in a hurry (it's a teacher thing) and decided to kill 2 birds with 1 stone and throw all my strawberries into my yogurt. It was so good I did it every day for the rest of the year!
To make:
Just mix equal parts Dannon Coconut Vanilla Greek yogurt and cream cheese. To save a dish, after I pour out the yogurt I use the empty container to measure out the cream cheese. Mix on a low speed until blended.
What are your favorite fruit dips? Share in the comments.