It's always fun walking into a party carrying a mouth watering dessert. So I've brought together 10 of my favorite recipes for desserts to share at your next party.
New York Style Cheesecake. This cheesecake is O.M.G. delicious. It's so creamy and smooth you might just "forget" to bring it to serve it so you can eat it all yourself.
Ice Cream Sandwiches. Recreate this childhood favorite with mix-and-match cookies and ice cream. Directions include how to make with both homemade and store bought ingredients.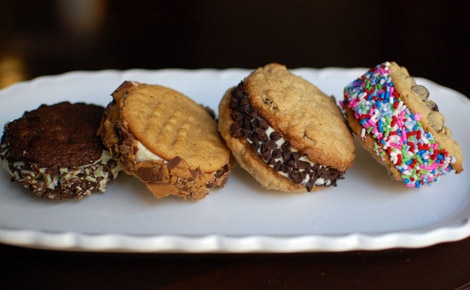 M&M Magic Bars. These magic bars are great to bring along to any occasion. I've made them for family functions and tailgating and they're always a huge hit. Plus, you can swap out the M&M colors for whatever's seasonally appropriate.
Michigan Rock Cookies. If you want something that's not as sweet, these date-nut cookies are a great option. They're a great alternative to sugary cookies, and even make a fun breakfast snack!
S'Mores Krispie Treats. A new twist on an old classic. Forget rice cereal and bring on the graham! And the chunks of Hershey's minis and marshmallow melt in your mouth.
Banoffee Pie. I first tasted this British delight at a tiny pub a few towns away. After my first taste it became a worthwhile reason to make the trip. This pie is smooth, creamy, and totally indulgent.
Peanut Butter Pie. This decadent, creamy, peanut-buttery pie will have you scraping your plate to make sure you get every last bite. If you love peanut butter, you have to try this pie.
Irish Cream Hot Fudge Cupcakes. You had me at Irish cream. This dessert is definitely a rich one and a bit more fuss than I usually put up with, but totally worth it. Just note that the recipe only makes 6 cupcakes, so adjust as needed.
Chocolate Drizzled Frozen Fruit Kabobs. If you're looking for something truly refreshing and a little lighter (and healthier), check out these kabobs. They're simple to make and gorgeous to look at, too!
Piña Colada Trifle. Trifles are always a great party treat because they're so easy to share. This trifle combines pineapple and coconut for a taste of the islands wherever you are.